Pochi minuti fa è apparso sul noto forum underground RaidForums, un post che mette in vendita un presunto accesso alla rete dell'azienda italiana Tiscali.
Ricordiamo che l'azienda Tiscali, è stata fondata nel gennaio 1998 a Cagliari da Renato Soru, in seguito alla deregolamentazione del mercato telefonico italiano. L'azienda deve il suo nome all'omonimo monte sardo, in cui sono presenti i resti di un villaggio nuragico risalente al VI-IV secolo a.C.
Ad oggi fornisce connettività sia fissa che mobile ai clienti italiani, per la rete Mobile opera al 100% sotto rete mobile 2G/3G/HSDPA+ (max 42,2 Mb/s in download); 4G/4G+ (max 150 Mb/s in download) di TIM.
L'hacker che ha pubblicato su RaidForums il post, afferma che il venditore è in possesso di SQL Injection su 6 domini Tiscali Telecom, per poter accedere ad una serie di database dell'azienda, dove sono contenuti utenti amministratori e dipendenti dell'azienda.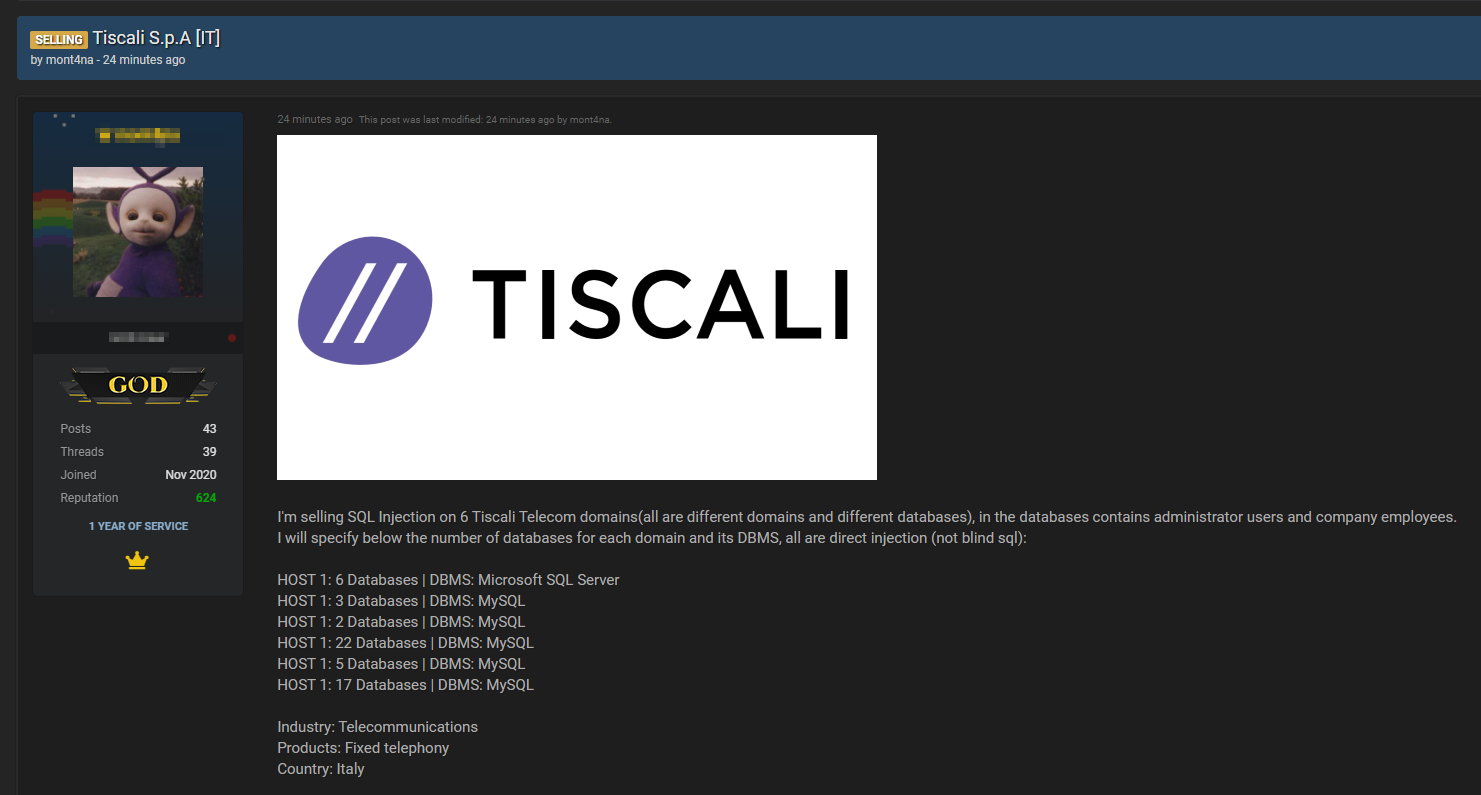 Tali SQL injection, da quanto riporta, potrebbero raggiungere ben 55 Database che sembrerebbero essere ospitati all'interno di 6 server, uno di questi di tipo Microsoft SQL Server e gli altri 5 di tipo MySQL.

I'm selling SQL Injection on 6 Tiscali Telecom domains(all are different domains and different databases), in the databases contains administrator users and company employees.I will specify below the number of databases for each domain and its DBMS, all are direct injection (not blind sql):HOST 1: 6 Databases | DBMS: Microsoft SQL ServerHOST 1: 3 Databases | DBMS: MySQLHOST 1: 2 Databases | DBMS: MySQLHOST 1: 22 Databases | DBMS: MySQLHOST 1: 5 Databases | DBMS: MySQLHOST 1: 17 Databases | DBMS: MySQLIndustry: TelecommunicationsProducts: Fixed telephonyCountry: ItalyWhat is Tiscali S.p.A?https://en.wikipedia.org/wiki/TiscaliTiscali S.p.a. (Italian: [ˈtiskali]; BIT: TIS) is an Italian telecommunications company, based in Cagliari, Sardinia, that provides internet and telecommunications services to its domestic market.[1] It previously had operations in other European nations through its acquisition of many smaller European Internet Service Providers (ISPs) in the late 1990s.Note: i will not respond to users without a good reputation or who have just created a forum account, do not insist!You are interested? send me a message in private.
Non è la prima volta che su RaidForums vengono pubblicati dei post di SCAM, pertanto RHC monitorerà la questione in modo da aggiornare il seguente articolo, qualora ci siano novità sostanziali.
Tiscali ha affermato a Red Hot Cyber, in una richiesta di chiarimento che:
"Confermiamo che i nostri esperti sono al lavoro per le attività di verifica e ad oggi non è emersa alcuna vulnerabilità."
Ringraziandoci per la segnalazione del post sul forum underground.